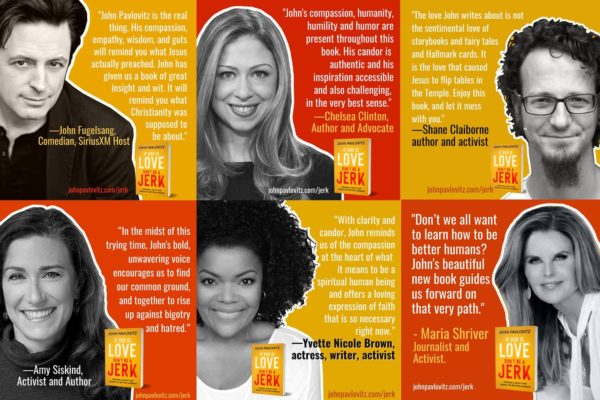 If God is Love, Don't Be A Jerk!
Welcome to If God is Love Online! with John Pavlovitz. We are so glad you're considering spending the next six weeks with us. More than just a discussion of the book, we're hoping the community you find will be encouraging, inspiring, and lifegiving! (See more info about book below.)
This experience is designed to be flexible, so whether you're participating on your own or with others you can move at a pace you're comfortable with. See the two-minute intro from John here:
https://www.ifgodislove.com/membership-area1637547949296
(login… username: kevin@parkwayucc.org; password: JPav2022!)
On Demand Chapter Videos
Three pre-recorded videos are added to the If God is Love website each Sunday morning to the member area and each video will cover a chapter from the book. Bookmark the page and come back to view the new videos. Don't feel compelled to watch three videos per week. You'll have these videos on-demand and can watch them whenever you'd like after the six weeks. (Use same web address and login as above.)
Live Zoom Gatherings from our Heritage Room or your home
Beginning on Wednesday, January 19th, at 7pm CT, we'll meet with John and others live on Zoom! He will give a message on a topic that spans the entire book, so regardless of where you are in your reading/watching, you'll be great! After John speaks, we'll have an open Zoom conversation about anything that's on your mind. You can ask questions about the book, expand an idea, share a story, and encourage one another. If you can't make the live gatherings, don't worry. They will also be recorded so you'll be able to watch at your convenience.
We will debrief each Zoom as PUCCers after each session. If you're not here in the Heritage Room, join us on our PUCC Zoom (unique from the JPav Zoom):
https://us02web.zoom.us/j/84691476997?pwd=aEM2ZURYWURLNmkwd0EzV0VHV1IyQT09  Meeting ID: 846 9147 6997; Passcode: 181565
Here is the link for the weekly Zoom gatherings with John on Wednesday eves: https://us02web.zoom.us/j/81362160670
Zoom Gathering Schedule with John and others (all are at 7pm CT):
January 19; January 26; February 2; February 9; February 16;
February 23… and a final wrap up at 8pm CT on Saturday, February 26.
Join us in the Heritage Room or from your home.
Questions? Contact kevin@parkwayucc.org; 314-872-9330
More about the book…
Imagine for a moment what the world might look like if we as people of faith,
morality, and conscience actually aspired to this mantra. What if we worked to create a world that was more loving and equitable than when we arrived?
What if we invited one another to share in wide-open, fearless, spiritual
communities truly marked by compassion and interdependence?
What if we daily challenged ourselves to live a faith that simply made us better
humans?
John Pavlovitz explores how we can embody this kinder kind of spirituality
where we humbly examine our belief system to understand how it might
compel us to act in less-than-loving ways toward others.
This simple phrase, "Thou Shalt Not Be Horrible," could help us practice what
we preach by creating a world where:
spiritual community provides a sense of belonging where all people are received as we are;
the most important question we ask of a religious belief is not Is it true? but rather, is it helpful?
it is morally impossible to pledge complete allegiance to both Jesus and America simultaneously;
the way we treat others is the most tangible and meaningful expression of our belief system.
In If God Is Love, Don't Be a Jerk, Pavlovitz examines the bedrock ideas of our religion: the existence of hell, the utility of prayer, the way we treat LGBTQ people, the value of anger, and other doctrines to help all of us take an honest look at how the beliefs we hold shape our relationships with God and our fellow humans―and to make sure that love has the last, loudest word.
Post Date: January 13, 2022