We believe in marriage. We believe in equality.

We believe in marriage equality.
ALL couples looking for sacred space in which to make their covenant promises are welcome here. We will work with you to create a unique wedding ceremony that will honor and celebrate your traditions and needs. We believe your family and friends will have a positive experience, feel more connected to the spirit of love, and will be led to be more engaged and accountable in their own relationships.
Congratulations & blessings on your upcoming wedding!
This following list will primarily assist you as you plan your wedding, but many of the guidelines are universal for any type of event at Parkway.
Staff
Generally, our pastor officiates over wedding ceremonies at Parkway UCC. If you wish to have a different officiate or someone to assist at your ceremony, please discuss this with our pastor.
A member of our church will be assigned to you as your wedding facilitator. This person will be assisting at the rehearsal and wedding ceremony. Please note, this individual is not a wedding coordinator; their job is to help you with our space the day of your event.
Pre-Marital Conversations
Prior to the wedding, the officiating pastor will meet with you at least three times. Please get in touch to schedule your first appointment. Email Pastor Kevin Cameron at kevin@parkwayucc.org or call the church at 314-872-9330.
Planning the Wedding Service
Dates and times for weddings, rehearsals, and events are reserved through the church office administrator. Reservations for the building are taken on a first-come, first-served basis. You will be asked to sign a facility usage agreement and submit the building fee before your wedding date is set on our calendar. We will hold your event date for two weeks. If the church administrator has not received confirmation or your paperwork and building fees, the date will be released.
Please confirm your wedding date with our organist (barry@parkwayucc.org) to plan your wedding music. If you wish to have another musician perform at your wedding, please discuss this with our organist.
The music at your marriage service should enhance and beautify the reverent, God-centered spirit of the ceremony. Our organist will be able to offer appropriate suggestions. The organist, in consultation with the pastors, has final approval on all musical decisions.
At the Rehearsal
Approximately one hour is needed as a rehearsal for most weddings. A time will be arranged to accommodate space availability and the schedule of the couple and pastor. The officiating pastor will lead the rehearsal and provide complete instructions.
The Parkway wedding facilitator will also be in attendance at the rehearsal
All persons in the wedding party are to be present at the rehearsal
The marriage license should be brought to the rehearsal and given to the pastor to keep until the ceremony
The Wedding Day
Church furnishings may be moved in consultation with the wedding facilitator. You are responsible for returning them to their original location
No alcoholic beverages are allowed on church property. Smoking is prohibited inside church buildings
Dressing and waiting rooms are available for purchase or as part of your package
Parkway UCC is not responsible for lost or stolen items. Please take all belongings with you when you leave.
Flash photography is prohibited during the service except as members of the wedding party walk down the center aisle for the processional and recessional. No photographers or videographers, professional or amateur, may be stationed any closer than halfway to the front of the chancel. Please advise photographers of these regulations in advance and remind them to check in with the pastor the day of the wedding.
Videographers may place a stationary camera in the corner of the chancel area with pastoral approval.
The couple may be showered outside with bubble or birdseed. Please no rice.
Receptions
Our Fellowship Hall may be used for wedding receptions and events. To reserve it, contact the church office administrator at (314) 872-9330 or contact@parkwayucc.org
If using the Fellowship Hall, you are responsible for setting up and taking down tables and chairs. Please designate a person in charge of set up and take down to be in touch with the wedding facilitator. This person must be present throughout the wedding and reception.
No alcoholic beverages are allowed on church property. Smoking is prohibited inside church buildings.
Book A Wedding
STEP 1  Submit the Wedding Interest Form or Call/Email Parkway to check the availability of your wedding date.
STEP 2  Schedule a tour of the facility.
STEP 3  Fill out and submit the facility usage agreement here ›.
STEP 4  Make a deposit to hold the date.
STEP 5  Schedule an appointment with pastor and organist (if applicable).
STEP 6  Complete the wedding data form and return it to the church as soon as possible.
Download Wedding Data Form ›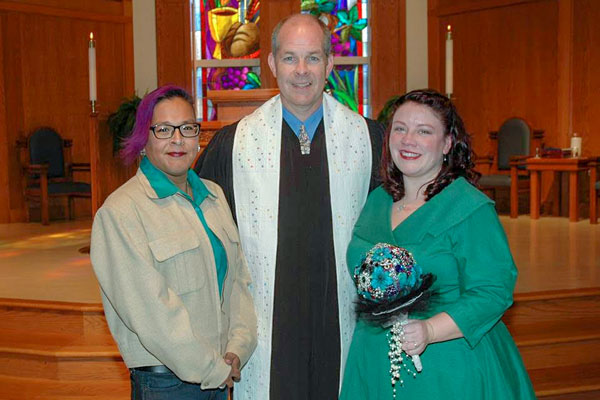 Wedding Costs
Building fees and wedding facilitator (required) honorarium are to be paid in full to the church office administrator at the time of reservation. Make checks payable to Parkway United Church of Christ.
Pastor and organist honoraria are to be paid directly to the individual and should be dropped off at the church office two weeks prior to the ceremony. Pastor honorarium includes three pre-marital sessions, rehearsal, and ceremony. Organist honorarium includes one consultation with the couple and music at the ceremony.
---
STAFF HONORARIA
Due 2 weeks before the ceremony, checks made out to the individual
Pastor: $200.00
Organist/Pianist: $200.00
Each rehearsal with soloist: $35.00
Soloist (pay at rehearsal): To be decided by you and soloist
Wedding Facilitator (required & paid with event rental fees): $100.00
FEES ARE SUBJECT TO CHANGE
revised May 2018
Wedding Interest Form
Please provide us with some information about yourself and your wedding date. A church staff member will contact you shortly with date availability and next steps. You can contact the church office administrator, 314-872-9330 or contact@parkwayucc.org if you have any questions.