As an active congregation, we use our building a lot here at Parkway. And when we aren't using the space we like to allow the community to use rooms for events and meetings. If you are interested in hosting an event, getting married or using our space for something else, our building is available for rent at a reasonable fee.
Sanctuary (28)
Parkway's Sanctuary is a modern, 4,100 square foot, worship area with beautiful stained-glass windows and a wooden truss ceiling. The Sanctuary was designed so that the large, elevated chancel is visible throughout the space. The pews have been specifically arranged to allow a spacious center aisle and still allow movement along the outside edges of the Sanctuary.
The maximum occupancy is 300 (240 can be seated without feeling crowded). Additional seating can be set up in the Gathering Space, adjacent to the sanctuary with a direct view and access to sound.
The length of the center aisle in the sanctuary from the door to the front step is 46 feet. The width of the center aisle (at fixed pews) is appx 8.5 – 9'.
Sanctuary
$750  | Ongoing Use: Fees negotiated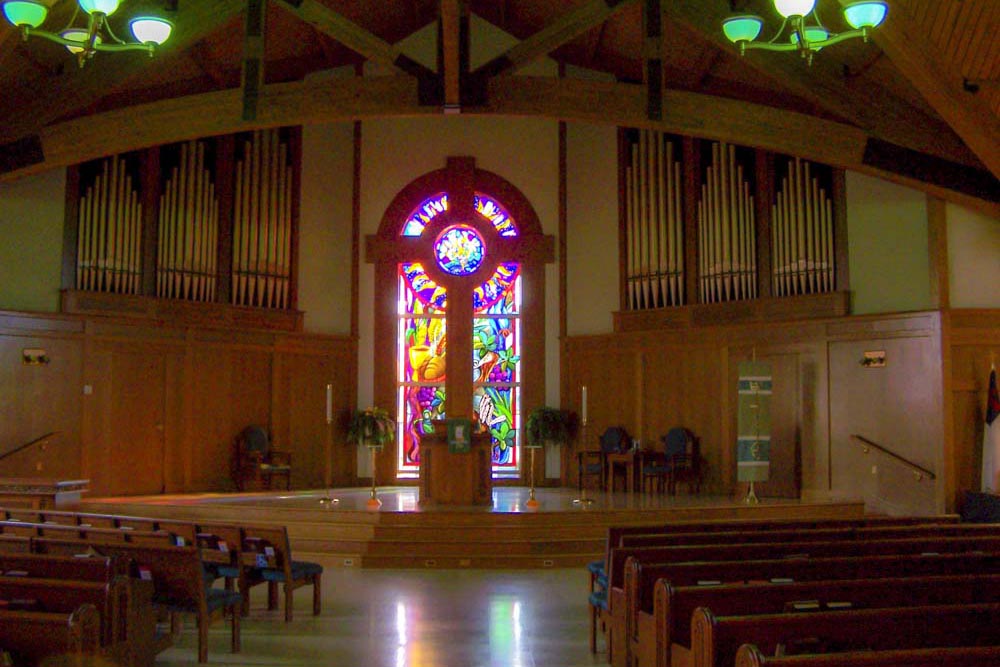 Fellowship Hall (18)
Also known as the Big Room or the gymnasium, this space adjoins the kitchen and is a bright, cheerful play area for kids (including basketball hoops). Seating about 200, this space is perfect for large meetings, dinners, trivia nights, and more.
Fellowship Hall Rental Fee
$300  | Ongoing Use: $200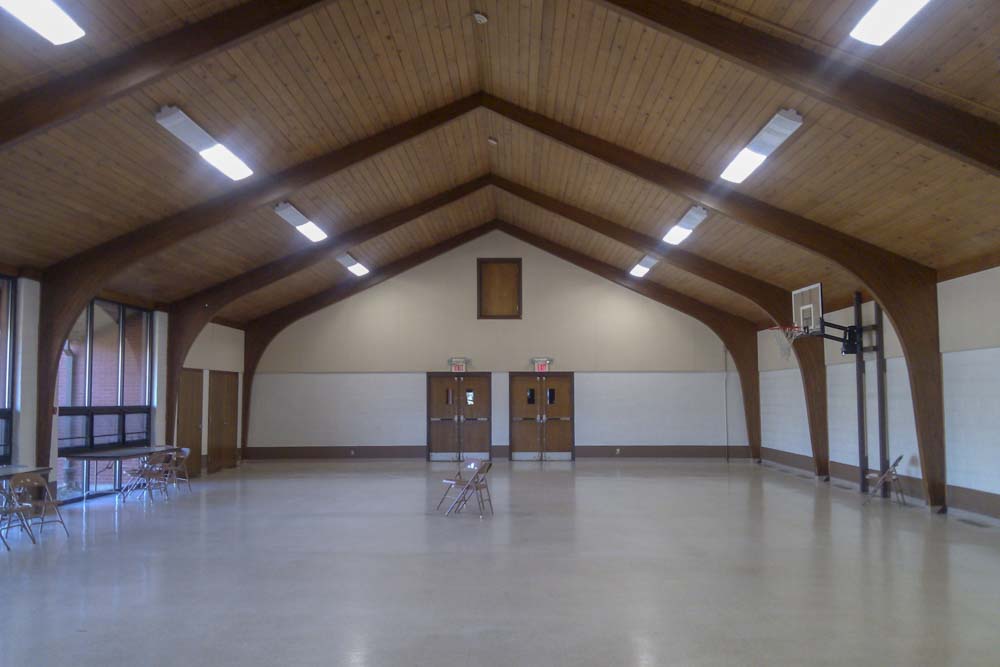 Fellowship Hall (18)
Fellowship Hall - Kitchen (17)
The kitchen offers a pass through window to the Fellowship Hall and features a modern commercial oven/stove.
Fellowship Hall & Kitchen - Rental Fee
$400  | Ongoing Use: $250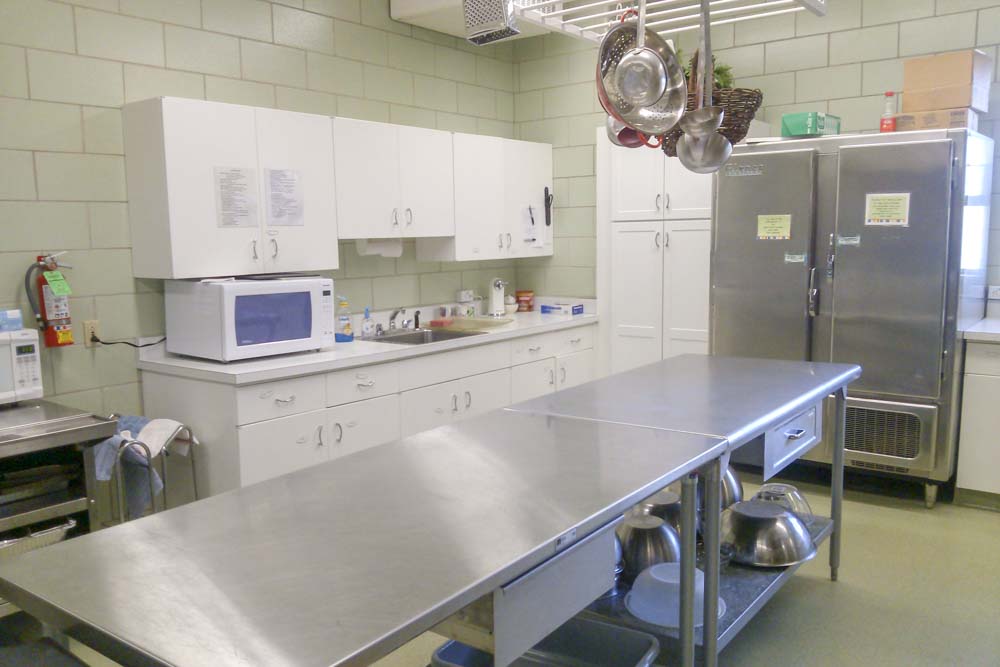 Heritage Room (11)
The Heritage Room is a conference space with a kitchenette, seating about 40. Complete with tables, chairs, audio/visual setup, and sofas, this space is perfect for meetings, wedding prep, and more. Seating Capacity: 55 (tables and chairs)
Heritage Room Rental Fee
$150  | Ongoing Use: $100
Classroom (10)
A comfortable classroom with table seating for small meetings. Seating Capacity: 17 (tables & chairs)
Room 10 Rental Fee
$50  | Ongoing Use: $25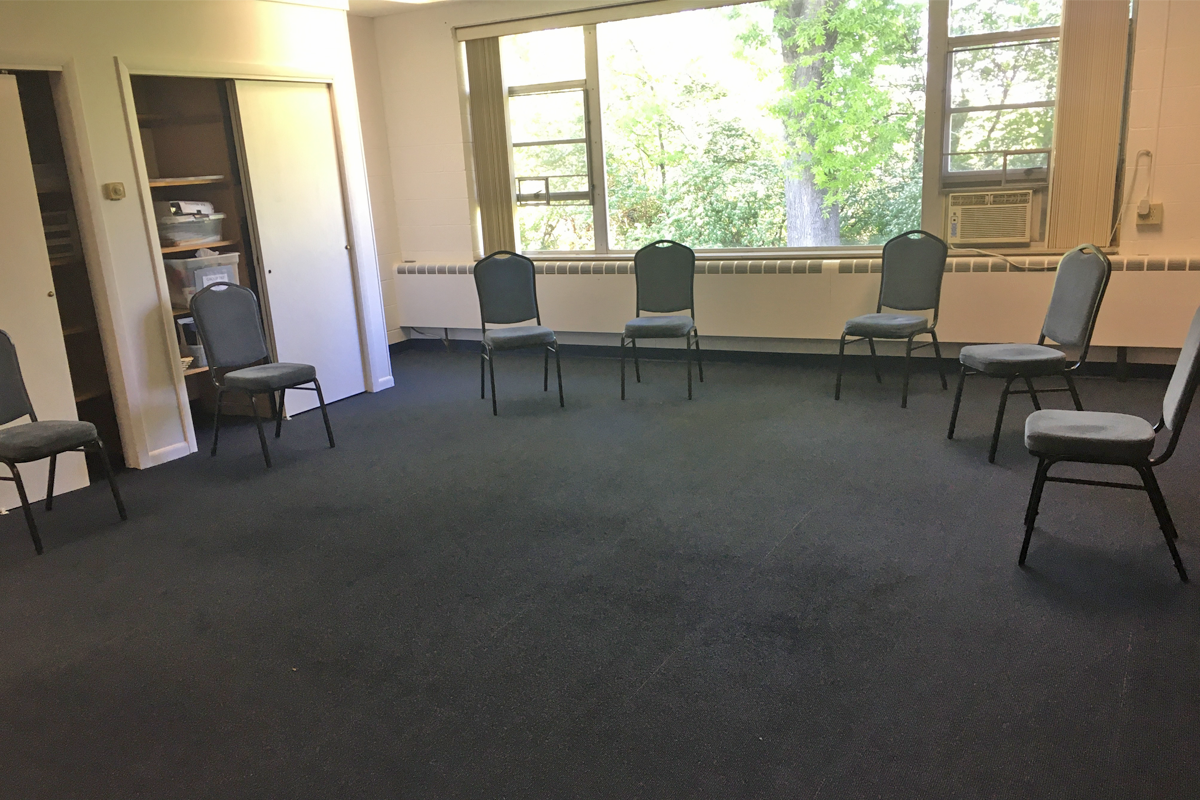 Gathering Space (26)
The Gathering Space is Parkway's living room, immediately to your left as you enter the building. It's intended to offer a welcoming atmosphere for visiting and conversation. Some features include sofas, tables, a history tower, and beautiful stained-glass windows.
Gathering Space Rental Fee
$50  | Ongoing Use: $25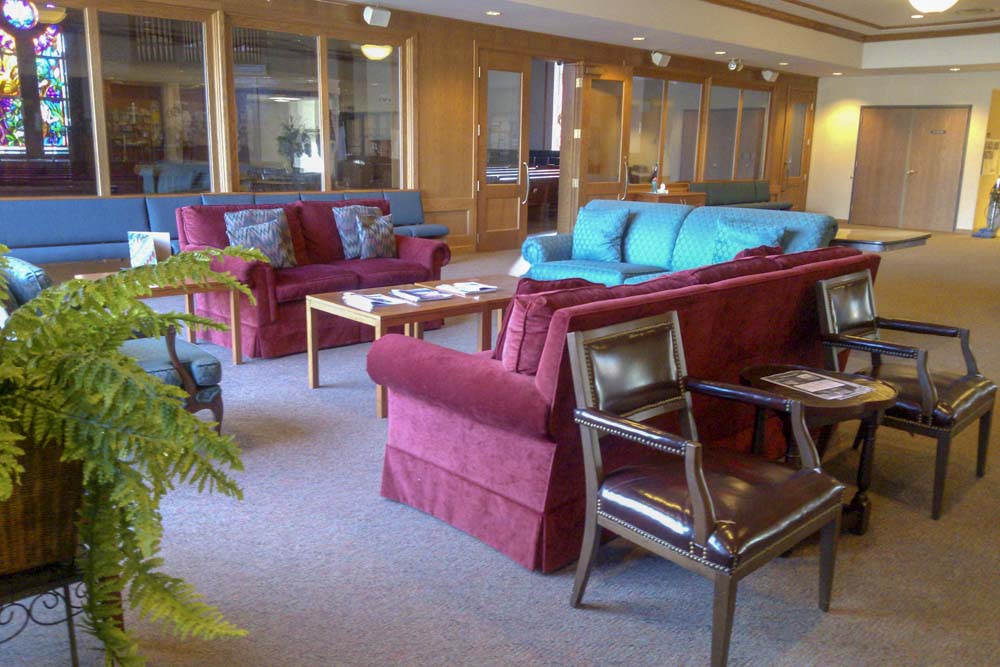 Youth Room (9)
Located on the main level at the end of the hall, this large room is ideal for youth gatherings. This room features a piano, pool table, and comfortable couches.
Youth Rooms Rental Fee
$50  | Ongoing Use: $25
Choir/Music Room (25)
Located across from the pastor's office on the southwest corner of the upper level, this is where the choir rehearses and where the music library is housed. It has a piano and serves as a meeting space when necessary.
Choir/Music Room Rental Fee
$50  | Ongoing Use: $25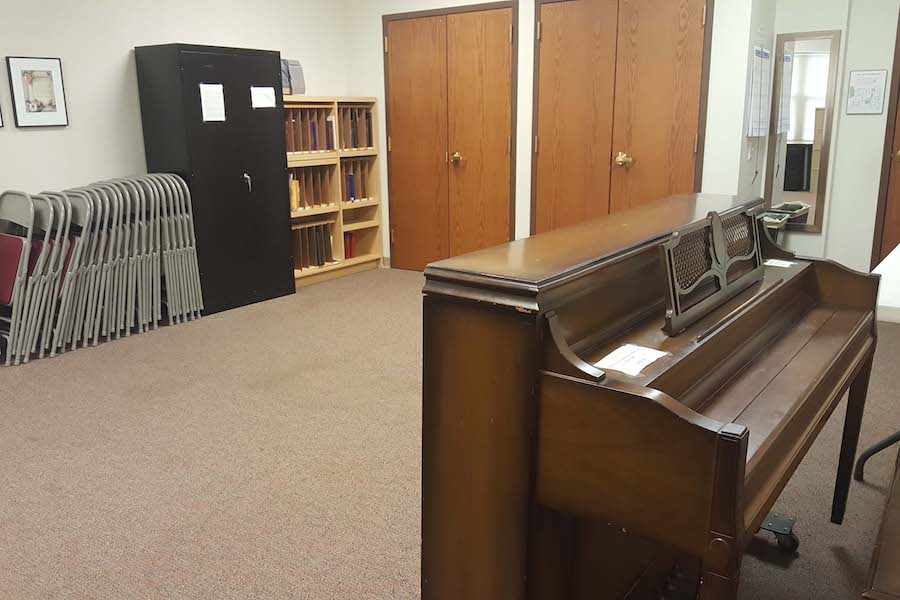 Classroom (3)
This makes a great meeting room. Tables and chairs can easily be configured for your needs. The smart board belongs to Miriam Academy and is not available for use of Parkway members and partners.
Classroom (3) Rental Fee
$50  | Ongoing Use: $25
Historic Sanctuary
Located on the East side of Ballas this charming historic church building has a lovely ambiance with the natural light streaming through the stained glass windows, choir loft and organ. It is not equipped with a kitchen or meeting/classrooms. The historic sanctuary is ideal for lectures, meetings, weddings, funerals and "unplugged" music events.
Historic Sanctuary Rental Fee
$750  | Ongoing Use: Fees Negotiated
Rental Fee & Payments
Facility
25% discount on multi-room packages
Repeat customers may qualify for a 25% discount
A suggested donation will be discussed for charitable organizations
Large organizations [Marthoma, SLCC] terms negotiated
Bookkeeping
A deposit (one month's rent) is required for all new rentals
Deposit will be refunded upon return of keys and if all conditions are satisfactory
Charge by the month. Invoice/statement sent by the 10th of the month for the upcoming month
Payments are due on the first of the month. Late payments subject to late fees ($10 per month if past 30 days)
If inclement weather forces cancellation, PUCC will issue a credit (If schools and/or major area businesses close because of weather)
Hard copies of invoices will be duplicated and kept in rental files
Event Packages
Event Package:
$850
New or Old Sanctuary, Gathering Space, Heritage Room, Choir Room, Library
Expanded Event Package:
$1000
New or Old Sanctuary, Gathering Space, Heritage Room, Choir Room, Library, Fellowship Hall, Kitchen
Parking
Large blocks possibly negotiated
Leased to companies only – no private individuals
Each organization renting the facility will be assigned parking spaces/blocks