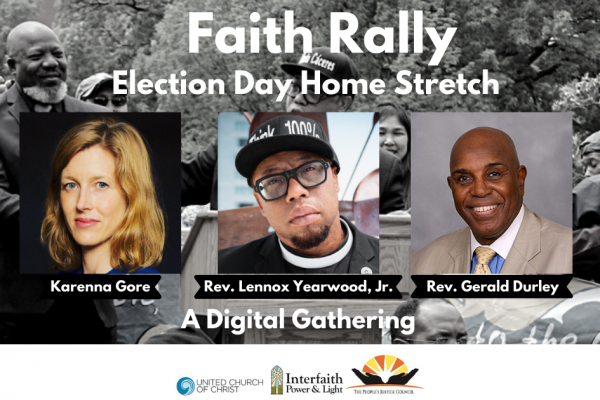 Faith Rally: Election Day Home Stretch
Event Date: 10/14/2023
Feeling bruised, battered, or fatigued by this election season? Looking for a source of uplift down the home stretch to November 3rd? Then, this webinar is for you. Join United Church of Christ, The Rev. Dr. Gerald L. Durley, the Hip Hop Caucus, the Center for Earth Ethics, and Alabama Interfaith Power and Light for this webinar to renew our energies & our focus as we approach an Election day with so many profound implications for those who care about the climate crisis and the many interconnected issues of justice that we face today. Our three featured speakers will include:
-Rev. Gerald Durley, a veteran of the civil rights movement and the current Chair of the Board for Interfaith Power & Light
-Rev. Lennox Yearwood, Jr., President of the Hip Hop Caucus which organizes the hip hop community for social and political change
-Karenna Gore, founder and director of the Center for Earth Ethics at Union Theological Seminary
This webinar is co-hosted by the Rev. Dr. Brooks Berndt of the United Church of Christ Environmental Justice Ministry and the Rev. Michael Malcom of Alabama Interfaith Power & Light and the People's Justice Council.
Sign-up now to join the webinar! Even if you can't make its scheduled time, still sign-up, and we will send you a recording of it.
Sign up ->https://bit.ly/33E8chn
Post Date: October 13, 2020