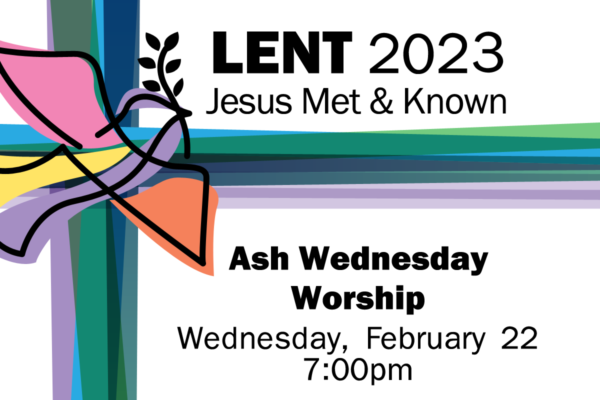 Ash Wednesday Worship
Event Date: 02/22/2023
Wednesday, February 22 | 7:00pm | Sanctuary
In the middle of a week, we pause to observe Ash Wednesday together —individually and as a faith community. We remember that God made us from fragile, blessed dust and breathes through us the breath of life and love. From dust we are created and to God's good dust we shall return. With ash we claim the mark of God's cherished, flawed, blessed and beloved creature.
We will begin our 40-day Lenten journey to Easter.
In daily practices of prayer, study, self-reflection and service we will be very intentional on this Lenten journey. We follow Jesus — God's Beloved Child, bone of our bone and flesh of our flesh in whom we see God's image most clearly. So come, let us pray for strength and imagination to follow Jesus wherever he will lead us this Lent. We model ourselves after him and long to be a more faithful, creative and effective expression of him.
Our theme this year is: Jesus Met and Known.

Jesus met a variety of people on his journey – and he knew even more Biblical characters because of being raised in the faith. As we meet these same people and personalities in the scriptures this Lent, they mingle with us and our unique stories. We also meet Jesus and he meets us this season… and we know him and we are known by him. As we live further into our individual and communal Christian identities, the Holy will help us to be more intentional and authentic about our faithfulness and effectiveness.

We welcome the Spirit to lead us, guide us and light the way so that we can be more intentionally the hands, heart and hope of Jesus.
Post Date: February 17, 2023