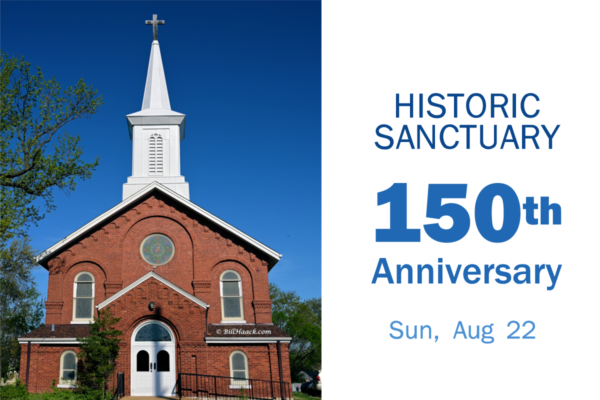 150th Anniversary Celebration of Parkway UCC Historic Sanctuary
Event Date: 08/22/2021
Sunday, August 22 | 10:00 am worship | 11:00 am – 12:30 pm Sanctuary and Elm Lawn Cemetery tours | PUCC Historic Sanctuary lawn, 2840 N Ballas Rd, east side of Ballas Rd
On August 20, 1871, the building known today as the Historic Sanctuary of Parkway United Church of Christ was dedicated.
On Sunday, August 22, 2021, the 150th anniversary of this special day will be celebrated during the 10 am worship service. After the service, the Historic Sanctuary will be open for tours. Church volunteers will be available to provide background on the building. Members of the Elm Lawn Cemetery Board will also be providing tours of the cemetery located immediately behind the Historic Sanctuary.
In 1870, after 32 years of meeting in homes and in log cabin churches, the German congregation of Parkway UCC, known at that time as Zion Evangelical Church, began plans to build a brick sanctuary. Under the leadership of Rev. J. G. Neuschmidt, the brick sanctuary, 35 by 60 ft was constructed for the sum of $4,781.91 of which $3400 was pledged before construction began. The bricks of the building were made exclusively of Missouri clay – dug, shaped and hand fired. The sanctuary was dedicated on August 20, 1871. With two wood burning stoves and rows of hitching posts out back, the small church served 34 people. Worship services inside the sanctuary were conducted in German.
To be continued…
Sources: 1982 Sanctuary Re-dedication, 1938 100th Anniversary booklet, 1988 150th Anniversary booklet
More info: Kim Livengood | kimclivengood@gmail.com