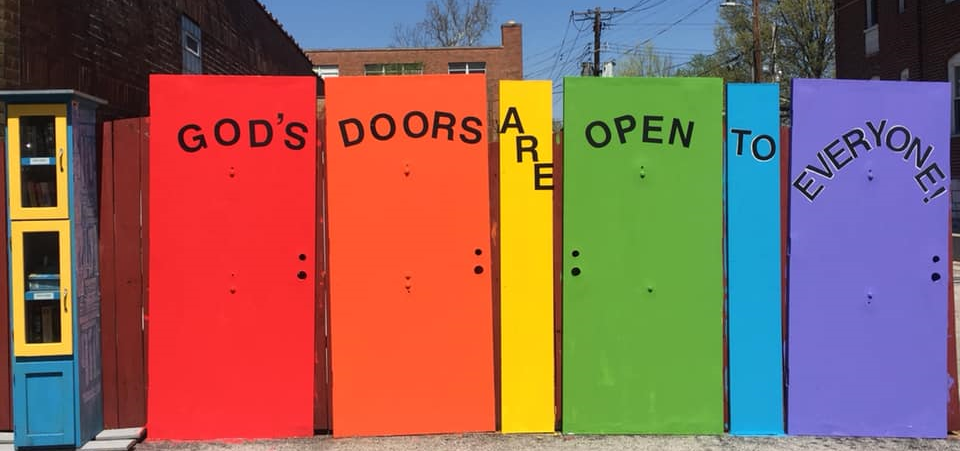 9th Annual Gateway ONA Convocation: OPEN & AFFIRMING: ​LIFE CHANGING AND LIFE SAVING
Event Date: 09/23/2023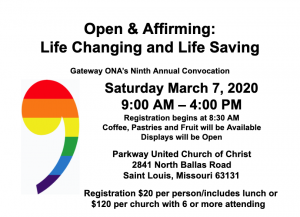 Gateway Open and Affirming welcomes you to our ninth annual Convocation!
Registration begins at 8:30 AM
Coffee, Pastries and Fruit will be Available
Displays will be Open
Registration $20 per person/includes lunch or
$120 per church with 6 or more attending
If you are an Open and Affirming congregation, talking about Open and Affirming or thinking about starting the conversation, if you want to explore how to be effective allies, there will be something for you and your church. Come be in conversation with others, learn what it means to be Open and Affirming and how to fully express extravagant welcome to all God's children.
Open and Affirming (ONA) is the United Church of Christ's (UCC) designation for congregations and other settings of the UCC which make a public covenant of welcome into their full life and ministry to persons of all sexual orientations, gender identities, and gender expressions.
There will be some new workshops and some new leaders as well as some returning leaders.
This year, we welcome Rev. Dr. Sarah Lund as our preacher/keynoter. Dr. Lund is the United Church of Christ's Minister for Disabilities and Mental Health Justice.
Our worship leader will be Rev. Tom Ressler, pastor at St. Paul United Church of Christ in St. Louis.
In addition to the workshops, we will have the Eden Theological Seminary Bookstore and other displays, as well as fellowship, food, and fun!
The morning worship will include the sacrament of Holy Communion. An offering will be received on behalf of the (National) United Church of Christ Open and Affirming Coalition.
Additional information will be emailed to all registered participants just prior to the event.
Please pre-register for Gateway ONA's ninth annual Convocation. The registration deadline is February 29.
Click below to download the registration form:
Contact Lorin Cope: buckeyeohio@hotmail.com | 330-903-7711
Service Opportunity
Wanna help with this event?
Post Date: January 28, 2020