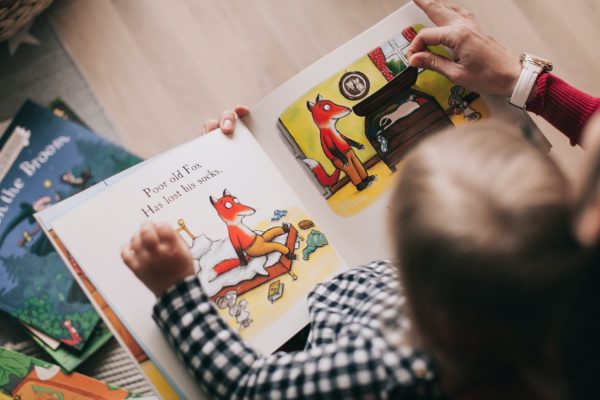 Sunday, February 26 | During Worship
It's Book Sunday when we gift all of our children birth through 8th grade an age-appropriate book that will encourage them in faith and community. Preview the books as PUCCer Liz & Zoe Lyons walk us through the list.

Following are the books we are offering this year.

When your child/youth have made their selection, please reach out to Carmen Bumgarner (cfbum@charter.net)

PUCC BOOK SUNDAY 2023 – Book List

AGES 0-1

Global Babies   

https://www.amazon.com/Global-Babies-Fund-Children/dp/1580891748/ref=sr_1_1?crid=36G9TZAYGRTEN&keywords=global+babies&qid=1673299451&sprefix=global+babies%2Caps%2C87&sr=8-10

From Guatemala to Bhutan, seventeen vibrantly colored photographs embrace our global diversity and give glimpses into the daily life, traditions, and clothing of babies from around the world. Simple text in Spanish and English teaches the littlest readers that everywhere on earth, babies are special and loved.
---
AGES 2-3
The Wonderful Things You Will Be by Emily Winfield
https://www.amazon.com/Wonderful-Things-You-Will-Be/dp/0385376715/ref=sr_1_1?crid=105QJ9WQ7RMC0&keywords=the+wonderful+things+you+will+be&qid=1675822963&sprefix=The+wonderful+,aps,158&sr=8-1
From brave and bold to creative and clever, Emily Winfield Martin's rhythmic rhyme expresses all the loving things that parents think of when they look at their children. With beautiful, lush illustrations and a stunning gatefold that opens at the end, this is a book that families will love reading over and over.
---
Pre-K … Ages 4-5
It's Okay to Make Mistakes by Todd Parr
https://www.amazon.com/Okay-Make-Mistakes-Todd-Parr/dp/0316230537/ref=sr_1_10?crid=1DDO9HL47RH7P&keywords=todd+parr+books&qid=1673298591&sprefix=todd+parr+books%2Caps%2C91&sr=8-10
From coloring outside the lines and creating a unique piece of art to forgetting an umbrella but making a new friend, each page offers a kid-friendly take on the importance of taking chances, trying new things, and embracing life, mistakes and all.
Kindergarten
Strictly No Elephants by Lisa Mantchev
https://www.amazon.com/Strictly-No-Elephants-Lisa-Mantchev/dp/1481416472/ref=sr_1_1?crid=3UXYEPXEZQLFC&keywords=strictly+no+elephants+book&qid=1675629924&sprefix=Strictly+no+elephants,aps,134&sr=8-1
Today is Pet Club day. There will be cats and dogs and fish, but strictly no elephants are allowed. The Pet Club doesn't understand that pets come in all shapes and sizes, just like friends. Now it is time for a boy and his tiny pet elephant to show them what it means to be a true friend.
1st GRADE
BIBLE: The Lion Read and Know Bible
A smaller format, hardback edition of a popular Bible – the reduced size makes it more accessible for young children. Over 50 stories, retold in simple language, are accompanied by 30 fun and informative encyclopedic double-page features throughout the book, which bring to life the cultural context of the Bible and highlight the point and purpose of these ancient stories. Spreads cover subjects including people and places, landscapes and creatures and traditions and worship to help young learners discover life behind the stories. A variety of both spot illustrations and larger pieces on every page makes a lively and engaging layout with plenty to encourage the young reader to turn the pages. Everything about this Bible is designed to make it appealing and child-friendly.
https://www.amazon.com/Lion-Read-Know-Bible/dp/0745976395
OR
Every Little Letter by Deborah Underwood
https://www.amazon.com/Every-Little-Letter-Deborah-Underwood/dp/0525554025/ref=sr_1_1?crid=1LZ5BXIEBCXVB&keywords=every+little+letter&qid=1673363321&sprefix=every+little+letter%2Caps%2C87&sr=8-1
Small h has always lived with the other H's in a city surrounded by walls that keep them safe. At least, that's what the big H's say. But one day, a hole in the wall reveals someone new on the other side. When little h and little i meet, they make a small word with big meaning: "hi!" The other H's find out, though. They fill the hole. But it won't be enough to keep these little letters apart–or twenty-four of their newest friends. Every Little Letter shows how even the smallest among us can make a big impact, and how a single act of friendship can inspire whole communities to come together. How do you tear down walls? With words, at first. Then brick by brick.
2nd GRADE
The Dirt Girl by Jodi Dee
https://www.amazon.com/Dirt-Girl-Jodi-Dee/dp/099852770X?asin=B08NXVMZCX&revisionId=&format=2&depth=1
When Zafera goes to school for the first time, all the children laugh and tease. But, Zafera does not understand so she just smiles. A beautiful story about shining bright no matter what, because our differences are our greatest gifts. And if you do, others will eventually see.
3rd GRADE
The Sour Grape by Jory John and Pete Oswald
https://www.amazon.com/Sour-Grape-Food-Group/dp/0063045419/ref=sr_1_1?crid=2VXVBZSJOCZ35&keywords=the+sour+grape+book+hardcover&qid=1675630846&s=books&sprefix=The+sour+grape+book+hard,stripbooks,158&sr=1-1
The Sour Grape holds grudges for every reason under the sun. Lime never returned a scarf they borrowed? Grudge! Orange never called back? Grudge! But when a friend holds a grudge against the Sour Grape without listening to an explanation, the Sour Grape realizes how unfair grudges can be. Could a bunch of forgiveness and compassion be enough to turn a sour grape sweet?
4th GRADE
BIBLE: The Children's Bible in 365 Stories – January 5, 1995 – by Mary Batchelor
All the stories in this book—one for every day in the year—come from the Bible, which is like a whole library in itself. The Children's Bible in 365 Stories contains sixty-six books of adventure, history, poetry, letters and much more.  The Bible shows us what God is like, and what we are really like too. Because God never changes and human nature stays the same, the Bible is always up to date.
Jesus showed us exactly what God is like. He won the fight against death and evil and came back to new and never-ending life. The Bible closes with a vision of our future, when Jesus will reign forever and bring justice and peace to a new and happy world.
https://www.amazon.com/Childrens-Bible-365-Stories/dp/0745930689/ref=sr_1_8?crid=19HNCPWJ08BF&keywords=the+children%27s+bible&qid=1675690043&sprefix=the+children%27s+bible%2Caps%2C150&sr=8-8
OR
The Boy at the Back of the Class by Ojali Rauf
https://www.amazon.com/Boy-at-Back-Class/dp/1984850814/ref=sr_1_1?crid=1DTIUXA7RJEGS&keywords=The+boy+at+the+back+of+the+class&qid=1675631996&sprefix=the+boy+at+the+back+of+the+class,aps,123&sr=8-1
There used to be an empty chair at the back of Mrs. Khan's classroom, but on the third Tuesday of the school year a new kid fills it: nine-year-old Ahmet, a Syrian refugee. The whole class is curious about this new boy–he doesn't seem to smile, and he doesn't talk much. But after learning that Ahmet fled a Very Real War" and was separated from his family along the way, a determined group of his classmates band together to concoct the Greatest Idea in the World–a magnificent plan to reunite Ahmet with his loved ones.
5th GRADE
War Stories by Gordon Korman
https://www.amazon.com/War-Stories-Gordon-Korman/dp/1338290223/ref=sr_1_1?crid=RZJLZJ913VE9&keywords=war+stories&qid=1673456423&sprefix=war+stories%2Caps%2C92&sr=8-1
A story of telling truth from lies — and finding out what being a hero really means.
There are two things Trevor loves more than anything else: playing war-based video games, and his great-grandfather Jacob, who is a true-blue, bona fide war hero. At the height of the war, Jacob helped liberate a small French village, and was given a hero's welcome upon his return to America. Now it's decades later, and Jacob wants to retrace the steps he took during the war – from training to invasion to the village he is said to have saved. Trevor thinks this is the coolest idea ever. But as they get to the village, Trevor discovers there's more to the story than what he's heard his whole life, causing him to wonder about his great-grandfather's heroism, the truth about the battle he fought, and importance of genuine valor.
OR
When Stars are Scattered by Victoria Jamieson (a graphic novel)
https://www.amazon.com/When-Stars-Scattered-Victoria-Jamieson/dp/0525553908/ref=sr_1_1?crid=3BTXYYB8RJ3WC&keywords=when+stars+are+scattered&qid=1673456759&sprefix=when+stars+are+scattered%2Caps%2C91&sr=8-1
A National Book Award Finalist, this remarkable graphic novel is about growing up in a refugee camp, as told by a former Somali refugee to the Newbery Honor-winning creator of Roller Girl. Omar and his younger brother, Hassan, have spent most of their lives in Dadaab, a refugee camp in Kenya. Life is hard there: never enough food, achingly dull, and without access to the medical care Omar knows his nonverbal brother needs. So when Omar has the opportunity to go to school, he knows it might be a chance to change their future . . . but it would also mean leaving his brother, the only family member he has left, every day.
6th GRADE
A Wish in the Dark by Christina Soontornvat  (Newberry Honor)
https://www.amazon.com/Wish-Dark-Christina-Soontornvat/dp/1536222976/ref=sr_1_1?crid=3AB0GOZ6T28RJ&keywords=a+wish+in+the+dark+by+christina+soontornvat&qid=1675632886&sprefix=A+wish+in+the+dark,aps,145&sr=8-1
All light in Chattana is created by one man – the Governor, who appeared after the Great Fire to bring peace and order to the city. For Pong, who was born in Namwon Prison, the magical lights represent freedom, and he dreams of the day he will be able to walk among them. But when Pong escapes from prison, he realizes that the world outside is no fairer than the one behind bars. The wealthy dine and dance under bright orb light, while the poor toil away in darkness. Worst of all, Pong's prison tattoo marks him as a fugitive who can never be truly free.
Nok, the prison warden's perfect daughter, is bent on tracking Pong down and restoring her family's good name. But as Nok hunts Pong through the alleys and canals of Chattana, she uncovers secrets that make her question the truths she has always held dear. Set in a Thai-inspired fantasy world, Christina Soontornvat's twist on Victor Hugo's Les Misérables is a dazzling, fast-paced adventure that explores the difference between law and justice – and asks whether one child can shine a light in the dark.
7th GRADE
The Light in Hidden Places by Sharon Cameron
https://www.amazon.com/Light-Hidden-Places-Sharon-Cameron/dp/1338355945/ref=sr_1_1?crid=WSQ0ZJKNPWCM&keywords=the+light+in+hidden+places+sharon+cameron&qid=1675633079&sprefix=The+light+in+hidden+,aps,223&sr=8-1
It is 1943, and for four years, sixteen-year-old Stefania has been working for the Diamant family in their grocery store in Przemysl, Poland, singing her way into their lives and hearts. She has even made a promise to one of their sons, Izio — a betrothal they must keep secret since she is Catholic and the Diamants are Jewish.
But everything changes when the German army invades Przemysl. The Diamants are forced into the ghetto, and Stefania is alone in an occupied city, the only one left to care for Helena, her six-year-old sister. And then comes the knock at the door. Izio's brother Max has jumped from the train headed to a death camp. Stefania and Helena make the extraordinary decision to hide Max, and eventually twelve more Jews. Then they must wait, every day, for the next knock at the door, the one that will mean death. When the knock finally comes, it is two Nazi officers, requisitioning Stefania's house for the German army. With two Nazis below, thirteen hidden Jews above, and a little sister by her side, Stefania has one more excruciating choice to make.
8th GRADE
BIBLE: The CEB Study Bible (hardcover) — Common English Bible
https://www.amazon.com/gp/product/1609262166/ref=ppx_yo_dt_b_asin_title_o00_s00?ie=UTF8&psc=1
Written by leading scholars, the CEB Study Bible helps readers understand the biblical texts within the larger historical and literary framework of the Bible through book introductions, thousands of notes, more than 300 articles, and full-color images throughout, revealing cultural contexts and exploring relevant background information—while always seeking to inspire.
Sometimes we need a little help to understand ancient meanings and to line up the rich layers of history and revelation. The CEB Study Bible is a readable, reliable, and relevant invitation to grow in God.
The CEB Study Bible is for encouragement and challenge, for guidance and reflection, for study and prayer:
The reliable, readable, and relevant Common English Bible translation in a single-column setting
Detailed book introductions, outlines, and notes from the finest biblical studies professors
Full-color throughout, including more than 200 illustrations, photographs, maps, and charts
Hundreds of thousands of cross references
More than 300 indexed sidebar and general articles
21 full-color maps designed by National Geographic and fully indexed
Several hundred leading biblical scholars were involved with the Common English Bible translation and as contributors to The CEB Study Bible. The Editorial Board includes Joel. B. Green (Fuller Theological Seminary), Seung Ai Yang (Chicago Theological Seminary), Mark J. Boda (McMaster Divinity College), Mignon R. Jacobs (Fuller Theological Seminary), Matthew R. Schlimm (University of Dubuque), and Marti J. Steussy (Christian Theological Seminary).
OR
Clap When You Land by Elizabeth Acevedo
Camino Rios lives for the summers when her father visits her in the Dominican Republic. But this time, on the day when his plane is supposed to land, Camino arrives at the airport to see crowds of crying people… In New York City, Yahaira Rios is called to the principal's office, where her mother is waiting to tell her that her father, her hero, has died in a plane crash. Separated by distance—and Papi's secrets—the two girls are forced to face a new reality in which their father is dead and their lives are forever altered. And then, when it seems like they've lost everything of their father, they learn of each other.
**
Watch Liz Lyons (as filmed by daughter Zoe) introduce you to all of these amazing books here – https://youtu.be/DloKNKjhTJg
When your child/youth have made their selection, please reach out to Carmen Bumgarner (cfbum@charter.net)
---
Photo by Lina Kivaka: https://www.pexels.com/photo/person-reading-a-book-1741230/
Post Date: February 24, 2023