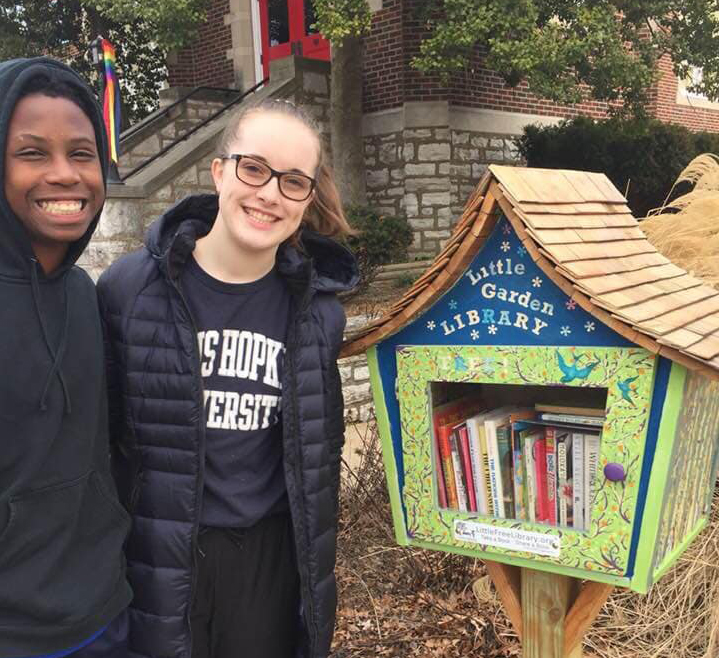 Jesus Has Left the Building 11 – MLK Day – January 20, 2020
This was our first JHLTB that wasn't a Saturday or Sunday. We chose the date because PUCCers have noticed the last couple of years that there aren't very many community service projects available on MLK Jr Day in St. Louis. We looked for existing projects to join, so that we were helping alongside others rather than going in with our own projects. We were surprised to see that not many service projects were posted online until very close to the MLK holiday. It took some digging to find meaningful projects for this day. There has been some frustration in the past that some service projects did not feel meaningful for PUCC participants.
We did not have a brief kick-off worship experience as we have done in the past because the start times and locations of the projects varied greatly. We did have a very intentional interactive Benediction at the close of worship the day prior to JHLTB11 to serve as the commissioning.
We had signups on posters in the Gathering Space and online through Signup Genius, set up by Phil Waite. It would be simpler for the JHLTB organizers if all signups were done through Signup Genius, but not simpler for some of our participants.
PROJECTS
Breakfast for Patrons of Isaiah 58 Ministries – Carol Cobb and crew
    Isaiah 58 address: 2145 S. Grand Blvd., St. Louis, MO 63104
The kitchen at Isaiah 58 was out of order, so Carol and crew of 6-8 gathered the day before, after church in the PUCC kitchen to cut up fruit and ingredients to make egg casseroles.
On Monday they served breakfast at Isaiah 58. The team prepared breakfast for 50 – 75 people, but served around 35. The left-over food was given away during the regularly scheduled Monday fresh food distribution at Isaiah 58 after the breakfast.
Carol commented, "I learned that breakfast was nice, but I felt it was a finger in a hole of a dam with so many poverty issues. What else could we have done for the clients there?"
Isaiah 58 Fresh Food Monday Distribution – Helping with an existing program
    2149 S. Grand Blvd, St. Louis, MO 63104
We had signups for 4 people
Gratitude Treats for First Responders – Kevin Cameron and Crew
We used a basic 4 ingredient cookie recipe (see below) and had all kinds of add-ins available (ie food coloring, flavored chips, nuts).
We did not have a list of fire stations and police stations to deliver to as we wanted to send bakers to first responders on their route home. We also asked people that were at the church doing other projects (Restocking 'Little Free Library' and 'Kits for Homeless') to let us know if there were first responders they could deliver cookies to on their way home or on their way to restock a 'Little Free Library'.
We piled paper plates with a variety of cookies and slipped them into large Ziploc bags. Some years we added a thank you note or poem or prayer…one year we wrote thank you messages on the paper plates so the message would be revealed as first responders ate the cookies.
Cameron-Bumgarner Family Cookie Recipe
Green Cookies (a favorite of Maya, Tavis, Iris, Dexter and Ousseynou!)
We often double this recipe.
2 cups yellow cake mix (or other flavor, whatever is on sale)
1 egg
¼ cup Crisco (we use the bar – the markings are easy to see)
2 TBSP water
We add all kinds of things to this base recipe including green food coloring, Granddaddy's pecans, M&Ms, Reese's pieces, chocolate chips, raisins, cocoa or chocolate pudding mix, butterscotch chips, toffee chips, coconut, crushed up Halloween candy, oatmeal and raisins, or trail mix. Added bonus – since this is cake mix – the smell in the house is fantastic!
Preheat the oven to 350 degrees. Blend all ingredients. Drop by TBSP onto ungreased cookie sheets and bake for 8-10 minutes until you see the tops get toasty.
Little Free Library – Iris Cameron, Maxeiners, Jean Mueller
We asked the congregation to donate gently used books of all kinds (children's, youth, fiction, non-fiction) for a couple of weeks prior to JHLTB11.On the JHLTB11 day, the team sorted the books so that each 'box' had a wide variety of books that could be pulled out of the car at each Little Free Library. We had signups for 5 people. The website has addresses of area 'Little Free Library' locations. (https://littlefreelibrary.org)
Kits for Homeless People – Phil Waite and crew
Phil and his group of around 20 people gathered at PUCC and made about 200 kits for homeless people including soap, razors, foot powder, lotion, and warmers.
Improvement Projects for Twillman Elementary School in Hazelwood – Mike and Gerry Rogers and Oussyenu
PUCCers participated in projects at Twillman Elementary with about 100 volunteers headed up by Vista. Our participants painted a hallway and made a big difference visually. Students coming to the school the next day were going to be surprised at the change. Supplies were provided
Visit PUCC Friends in Rehab/Retirement Homes – Jean Mueller
    Take small plants/flowers to and visit with people in rehab and retirement homes
Christ Church Cathedral
Hear readings honoring Reverend Dr. Martin Luther King. One person signed up but not sure if she went
Old Courthouse Martin Luther King Celebration – Jackie Eiffert
    Attended the Old Courthouse Celebration for MLK Day in the rotunda of the historic Old Courthouse downtown. The celebration was both civic and spiritual, with government and spiritual leaders of various faiths, musicians, actors, and dancers. The focus was on continuing Dr. King's mission, and there was an emphasis on issues affecting the St. Louis black community today. It was a meaningful learning experience. After the ceremony, there was a two mile march.
Fellowship at Shelters
    There was a possibility of  people going to a men's or family shelter for fellowship with clients there. We did not do this for JHLTB11.