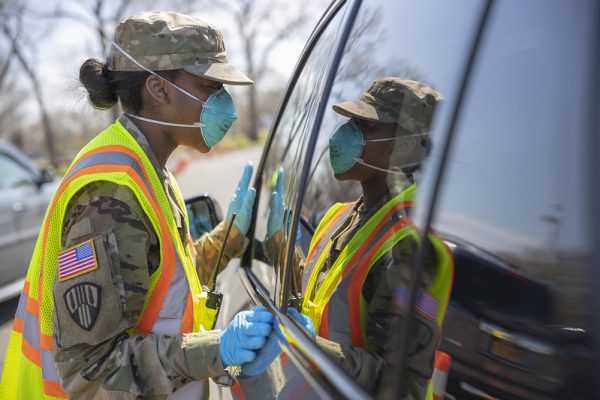 Respond to this post by replying above this line
by Maren
God, this is my two-hundred-twenty-eighth
daily prayer for those with COVID-19
and today it includes Donald and Melania Trump,
as well as people from the Greek Orthodox church,
York County Jail, University of Iowa,
India, Brazil, and the parents
of people whom I know.
And everyone else, O Gentle One,
but I can't think that way
and I know you multiply my prayers.
And so I pray for these – breath,
access to good care,
sleep for the weariness, cool for the fever,
some chances to be connected
with people they love,
ease from fear of having infected others,
hope, and more breath,
for I pray in the name of Jesus Christ
who breathed – peace be with you –
into his disciples faces,
and in the spirit of holiness
that each of these for whom I pray hold dear. Amen.
(since roughly February 17)
---
New York Army National Guard Spc. Gilliam-Gray Shawnese assigned to the 101st Expeditionary Signal Battalion, 369th Sustainment Brigade, New York Army National Guard gives instructions to people in their vehicles at the COVID-19 Mobile Testing Center in Glenn Island Park, New Rochelle, Apr. 8, 2020. The New York National Guard continues support at seven drive-thru testing sites. Soldiers and Airmen are collecting samples and providing general-purpose support at the testing locations, now exceeding 5,000 tests per day in total. (U.S. Army National Guard photo by Sgt. Jonathan Pietrantoni)
Post Date: October 6, 2020