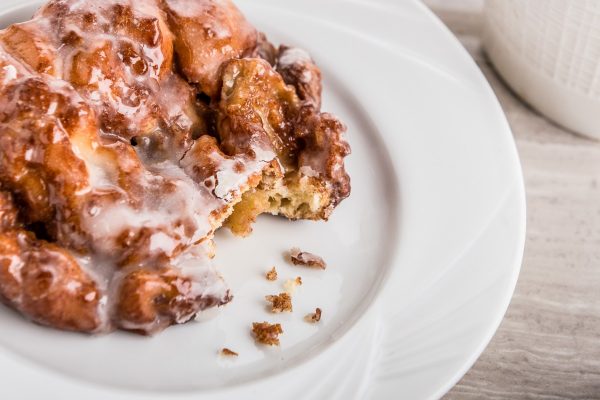 Amish Apple Fritter Bread
Amish Apple Fritter Bread
1/3 cup brown sugar
1/2 tsp. Cinnamon
1/2 cup (1 stick) unsalted butter, softened
2/3 cup sugar
2 eggs
2 tsp. Vanilla extract
1 1/2 cups all purpose flour
2 teaspoons baking powder
1/4 teaspoon salt
1/2 cup milk
1 1/2 cups diced apples (about 4 med apples) mixed with a little cinnamon and sugar to coat.
Powdered Sugar Glaze
1/2 cup powdered sugar
1/2 Tablespoon butter, softened
2 tablespoons milk
1/4 teaspoon vanilla extract
Preheat the oven to 350°. Spray loaf pan with nonstick cooking spray so it will slides out easily.
Mix the first two ingredients, the brown sugar and cinnamon together in a bowl and set aside.
In a large mixing bowl, beat together the sugar and butter until smooth. Beat in the eggs and vanilla until blended.
In a medium bowl, stir together the flour, baking powder and salt. Add this mixture to the large bowl and stir until well blended. Pour the milk into the batter and blend until smooth.
Pour half the batter into the prepared loaf pan. Then add half of your chopped apple mixture. Pour the rest of the batter on top of the apples.
Top with remaining apples and pat them slightly into the batter. Sprinkle with the brown sugar and cinnamon mixture you had set aside.
Bake in a preheated oven until a toothpick inserted comes out clean, approximately 60 to 70 minutes.
To make the powdered sugar glaze, blend the powdered sugar and butter together until smooth, mix in the milk and vanilla until a nice, smooth glaze consistency. Let the Apple fritter loaf cool about 30 minutes before pouring the glaze on top.
Wrap up to give as gifts or slice into desired slices……
Post Date: September 24, 2020