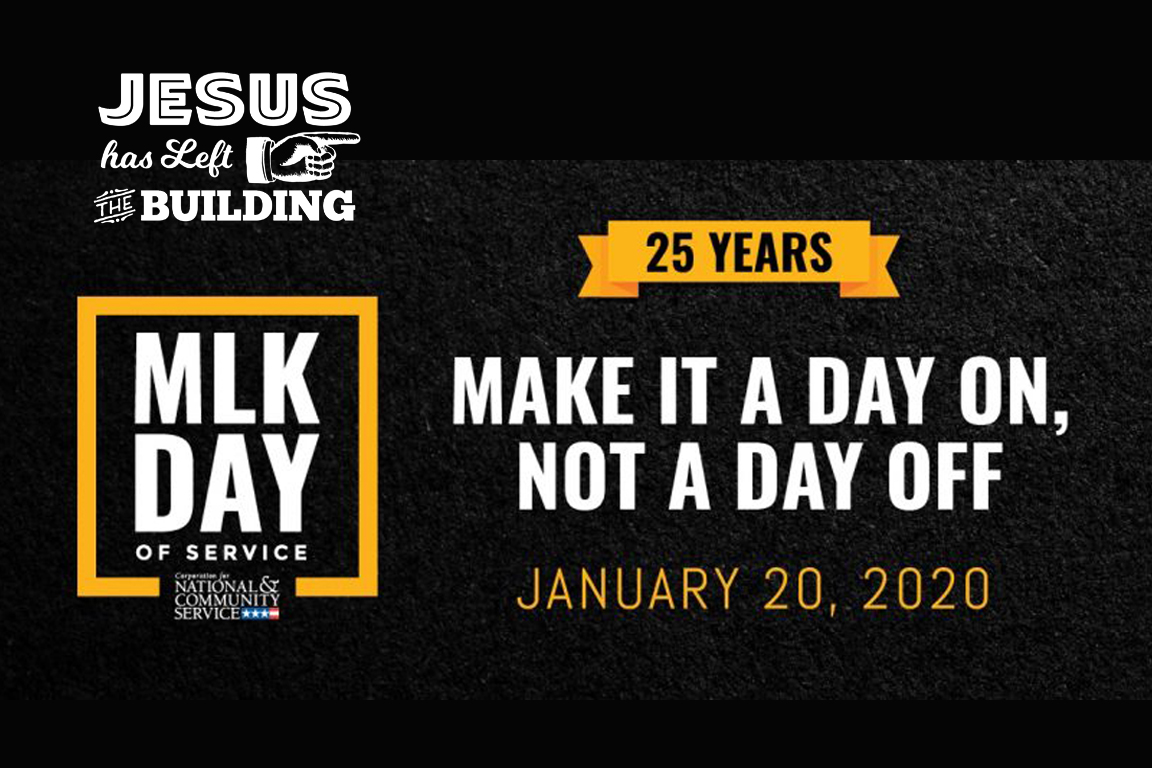 JHLTB11 – A Day On, Not A Day Off
Event Date: 01/23/2023
"The time is always right to do right." – MLK Jr
Join us on MLK Jr's Birthday – Monday, January 20 – for our 11th Jesus Has Left the Building.
Please set aside the morning of MLK Jr's birthday as a DAY ON not A DAY OFF! We are asking everyone to bring used books of any kind to the Gathering Space anytime between now and Sunday night, January 19 as part of our restocking efforts with "Little Libraries" across the City of St Louis – just one of the opportunities for JHLTB11. Thank you!
Please visit https://www.signupgenius.com/go/70A084EAAAF2DA3F85-jesus now to sign up for the project that interests you most.
"If I cannot do great things, I can do small things in a great way." – MLK Jr
---
Commemoration Service
Monday, January 20, 2020. 7–8:30 p.m., Graham Chapel
Washington University Danforth Campus Sign language interpretation will be provided "The time is always right to do what is right." The Martin Luther King Jr. Commemoration is an annual celebration honoring the legacy of Dr. King and the impact he has made on those who carry the torch for humanity. It represents an alliance of dedicated faculty, staff and students united to realize Dr. King's vision of hope, freedom for all and social justice.
The theme of the 2020 commemoration is taken from a quote of Dr. King, "The time is always right to do what is right." The keynote speaker is Washington University Chancellor Andrew D. Martin. Marion Crain, professor of law and interim provost, will provide remarks. The commemoration will also include two Washington University student choirs, the Washington University Chamber Choir and Visions Gospel Choir, and a performance by Black Anthology, the university's oldest cultural production.
---
Service Projects
Help prepare breakfast for the patrons of Isaish58 for Martin Luther King, Jr Breakfast. We might expect from 50-75 guests. We will gather in the PUCC kitchen after church Jan 19 to make egg casseroles, cut up fruit, and make breads, etc.
Sign up to deliver the egg casseroles after baking in your oven. We will need to transport fruit and breads also. They have no working ovens so we need to transport warm as we can.
Help serve the breakfast at Isaiah 58. We need to arrive by 8:00 am to serve by 8:30am. We are encouraged to spread out among the patrons to eat breakfast and for conversation.
Join a group to assist in Isaiah 58 Fresh Food Monday Distribution beginning at 9:30am.
Make up packets for homeless including band-aids, crackers, fingernail clippers, hats and gloves and etc. Deliver to sponsor in the city. Contact Phil and Laura Waite
Participate in projects to improve Twillman Elementary in Hazelwood. Contact Mike Rogers
Group to visit Parkway's in rehab/ retirement homes and take small plants for care teams. Need an organizer. Possible visits; Ellen Surber, Pearl Sellenrick, Georgia Herpel, Millicent Guerri, and Ruth Murray.
Readings honoring Martin Luther King, Jr. from 9am to 5pm at Christ Church Cathedral. Drivers needed.
Old Courthouse Service 9:30-11:00am and then participants could join the march afterward. We will need drivers for people attending.
Bread or other treat for City of St. Louis firefighters. Bake quick breads or other treat and deliver to selected firehouses in St. Louis. Need an organizer
Collect books for Library Boxes to distribute throughout the City of St. Louis. Need an organizer
Post Date: December 31, 2019