We are dedicated to providing compassionate, safe and fun care for children in our congregation.
Children & Youth Opportunities
As of March 18, 2020, on-site children/youth activities are suspended. Join our livestream worship 9:55am Sundays on our Facebook page» for online Sunday School and Bible education.
Sunday School & Bible Education
Pathways of Faith  Sundays, 10:00am-11:15am
Children attend the first 15 minutes of the 10:00 worship service, participate in the Children's Message, and then move to our Rotation Sunday School – Pathways of Faith. We are currently using the Gather Round cirriculum, featuring stories from the old and new testaments.
Grace Place  Sundays, 10:45am-11:00am
Our fellowship hall is set up for children and youth on Sunday mornings to play games, building blocks, and basketball during coffee fellowship.
Our middle school and senior high youth use a Cokesbury curriculum, Biblically based "Linc" which uses current events for discussion. Movies, music, and stories of the day are used to help our youth examine relevant faith and life issues.
Nursery
We believe we are called as a church to receive, nurture, and treasure each child as a gift from God. Our nursery is a safe, clean, and inviting room for parents and children. We have two experienced staff members who are CPR certified and background checked. Becca Palmgren and Julie Connors welcome babies through age 3 into our nursery room, located close to the Sanctuary.
Vacation Bible School
MAD Camp Goes to the Circus ONLINE
Monday, July 27-Thursday, July 31
God's Fun Circus
Join us online for a fun-filled week as we put together a video circus! We will get
together online daily on Zoom to sing songs, learn tricks, play games, listen to stories,
and share our amazing talents and creations in a giant circus! It's an exciting week of
learning, playing, and using the gifts God has given us!
Ages 3 through entering 5th grade (Hey–6th graders and up: We need YOU to be circus
leaders!)
Monday, July 27 – Thursday, July 30
9:00 a.m. to 11:30 p.m. daily with evening circus video aired on Thursday, July 30 at
7:00 p.m.
Cost: FREE (donations are appreciated; all funds raised will go to Every Child's Hope
children's home)
Questions? Email us at madcamp@parkwayucc.org
My husband and I have been members for nearly 45 years and have seen the beloved children of the church grow in their faith as they learn they are loved by all in such a safe place.
- C. Cobb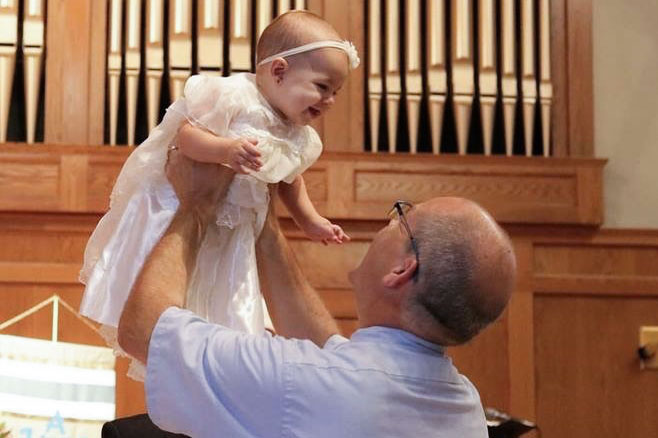 Baptism
At Parkway UCC, we celebrate baptism for people of all ages. Baptism is open to members and non-members. The Sacrament of Baptism symbolizes the love by which God reaches out to us even when we are very young. Whenever we baptize an infant, child, teenager, or adult, we are declaring that God loves that person and we offer ourselves as one of the instruments of that love in her/his life.
Confirmation
Confirmation provides the opportunity for youth to affirm the baptism vows that were made for them when they were younger. It's their time to claim the faith for themselves as they take responsibility for following, serving, and loving Christ. Weekly confirmation classes offer the opportunity for our older youth to ask questions, explore faith, and discover beliefs. Our confirmation program also includes opportunities to learn about other world faiths, as we understand the importance of peaceful coexistence—showing the same love that Jesus often spoke of in his ministry.
Music & Choir
Parkway offers a variety of music opportunities for children and youth. Some of our groups include Voices of Grade, Children's Choir, Hand Chime Ensemble, and the First Sunday Choir. Browse all music opportunities ›
Other Opportunities Throughout the Year:
Christmas Pageant
Journey to Bethlehem
Special Easter morning ending with an Egg Hunt