Intertwine Interfaith Initiative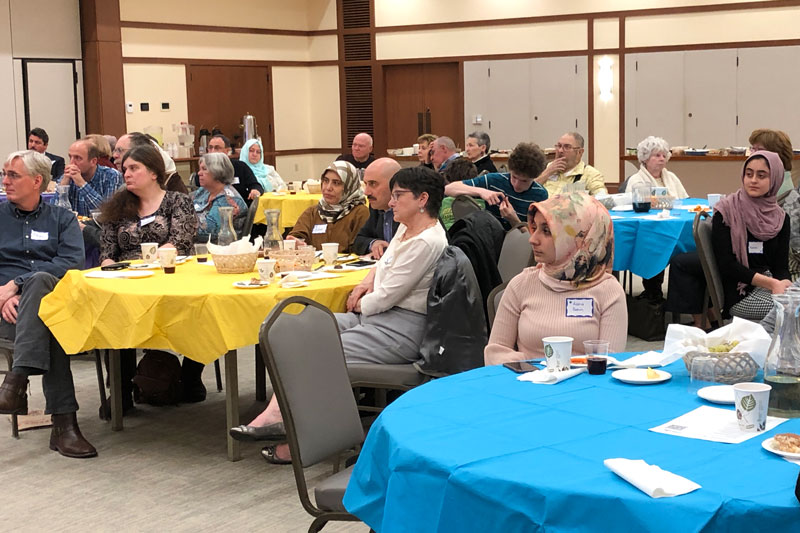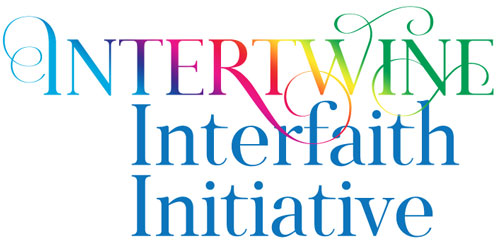 Embracing All Faiths
Intertwine Interfaith is an initiative to build positive relationships while learning more about other faith communities. In a world where divisiveness may seem like the norm, we strive to celebrate both our similarities and differences with members of various faiths and backgrounds.
Upcoming Intertwine Interfaith Events
Interfaith Talks 2020
POSTPONED until APRIL
4th Thursdays (except for April 30) | 6:30pm | Parkway UCC Heritage Room
Last winter and spring, PUCC and TASOM, our Muslim friends from Turkey, held a monthly small group discussion night regarding Islam and Christianity in a safe, friendly space. This year, we are three faith traditions as we add Congregation Shaare Emeth, our Jewish siblings from just up the street. Our topics this year include: prayer, faith in action, science and nature.
We intentionally limit the size of the group to facilitate discussion and getting to know each other. Those who register are encouraged to participate in the entire series for consistency (although we realize there are exceptions that arise).
The format is a brief is a brief exploration of the topic from each faith tradition, followed by hearty dialogue.
Specific dates and topics in the poster: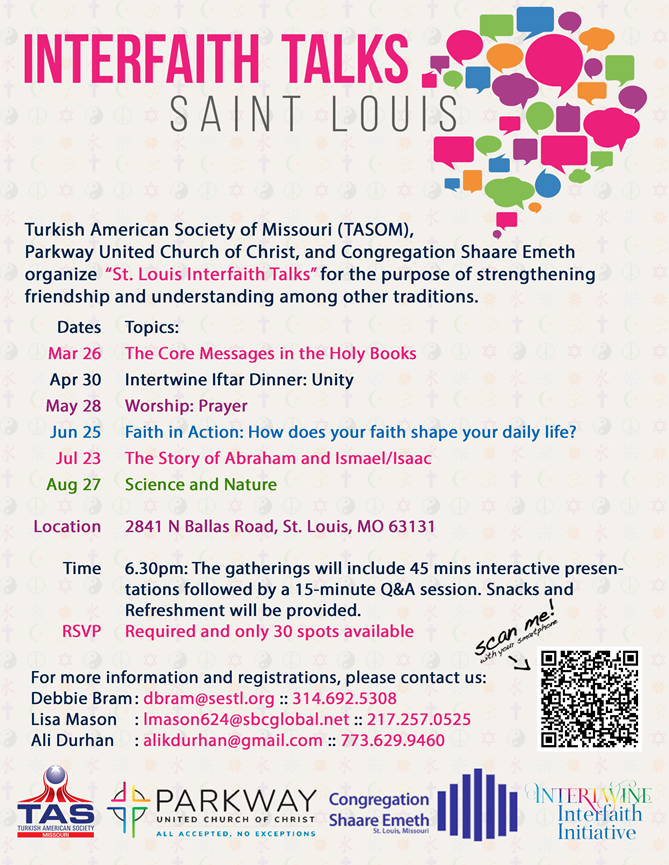 Questions? Please reach out to Lisa Mason lmason624@sbcglobal.net; 217-257-0525
Community Interfaith Bulletin Board
Because of our commitment to interfaith dialogue, we post interfaith events in the community as we get word. In light of coronavirus concerns, many events are being cancelled or postponed. Please check with the host of the event about cancellations before attending. Contact information is listed with each event. Thanks for your understanding.
Yom HaShoah (Holocaust Remembrance Day)
Sunday April 26, 4 p.m.
B'Nai Amoona Synagogue, 324 S. Mason Rd., 63141
Citizens for Global Solutions annual meeting
May 17, 4 p.m.
Representatives of different religions will hear Dr. Richard Ponzio speak about the 75th anniversary of the United Nations and UN reform at the annual meeting of Citizens for Global Solutions on Sunday, May 17, at 4 p.m. in the lower level of the Ethical Society, 9001 Clayton Road, 63117.
European Heritage Experience trip
June 8 - July 9, 2020
Jewish Federation of St. Louis and the St. Louis Holocaust Museum are sponsoring a European Heritage Experience trip to Warsaw, Krakow, Lodz, Prague, and Berlin from June 28 to July 9. Go to JFedSTL.org/European-Experience for further details.
Textual Dialogue Meetings
Textual dialogue meetings will take place at Aquinas Institute of Theology, 23 South Spring, 63108, in the lower conference room on the following Tuesdays from 12:30 to 1:30 p.m.: January 21, 28, February 4, 11, 18, 25, and March 3. A group of Jews, Christians, and Muslims will read and interpret passages from the Torah, Psalms, Gospels, and Qur'an.
Faith in Action: Working for Justice in St. Louis
This year's Rabbi Ferdinand Isserman Lecture "Faith in Action: Working for Justice in St. Louis" will be presented by two members of the Interfaith Partnership Board: Dr. Billie Mayo of the Baha'i Faith and Dr. Shima Rostami of Islam. This program will be on Thursday, February 20, at 7 p.m. at the Graham Memorial Chapel at Washington University.
Faith Perspectives on Religious Liberty
Join us for a discussion by faith leaders and legal experts on religious liberty as practiced by their respective faith communities.
Thurs March 5, 2020 @ 7-8:30pm at The Church of Jesus Christ of Latter-Day Saints, 10445 Clayton Rd, Frontenac, MO 63131
Interfaith Partnership of St. Louis Annual Meeting
Interfaith Partnership's annual meeting will be on Thursday, March 12, at 7 p.m. at the Ladue Chapel Presbyterian Church, 9450 Clayton Road, 63124. Some representatives of different religious groups will speak about acts of compassion, calls for justice, the global ethic, and healing of our planet.
Meeting Our Neighbors: Cathedral Basilica of St. Louis
Join the interfaith community for a tour of the Cathedral Basilica of St. Louis and the opportunity to experience one of the most beautiful churches in the region!
Sun March 22, 2020 @ 3-4:30pm at Cathedral Basilica of St. Louis, 4431 Lindell Blvd, St. Louis, MO 63108
Women's Interfaith Conference
April 22, 2020
This annual spring conference brings together St. Louis women to share the beliefs, values, customs and practices of their respective faiths. This year's theme is Women of Faith: Beyond Stereotypes to Truth.
For more info, please contact womeninterfaithstl@gmail.com