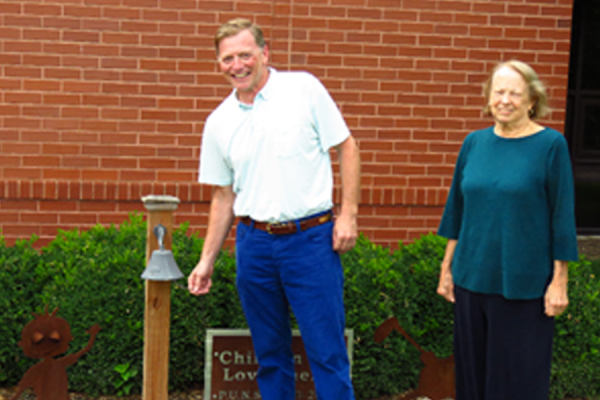 Harper School at Parkway
Event Date: 09/23/2023
The education wing will again be filled with the joy of students as we welcome Harper School to their second campus in the area. Pictured are Joe Wagner, founder of Harper School, ringing the commemorative PUNS school bell, and Council President Linda Tossing.
Harper Hybrid is an in-person school for K-5 students whose regular school is fully or partially closed due to the pandemic. Their goal is to help parents who want their kids to have a sense of normalcy and who themselves may be in the challenging position of trying to balance their work and family responsibilities. Harper Hybrid provides a safe environment where their staff will help students stay on track with their school day as laid out by their regular public school. Harper Hybrid is a month-to-month program and there is no obligation for the full school. Families can choose between full day and half-day programs and five days per week or only two. Afternoon extended care is also available. If a student's regular public school re-opens, they can switch back with no further obligation or they can switch to part-time at Harper Hybrid if their regular school opens only part-time. Follow this link for more information about Harper Hybrid School:  http://harperschool.org/harperhybrid-overview.html
The school offered Parkway a creative financial arrangement. Parkway will get a monthly guaranteed income and, as the school attendance grows, a share of the tuition. Please spread the word to your family, friends, and neighbors of Harper Hybrid's timely service to our community.  The length of Harper Hybrid's tenancy at Parkway is related to the need for the hybrid service to the community. Joe Wagner would like to consider Parkway for a K – 5 elementary school to complement the established Harper preschool now located at Faith & Des Peres Presbyterian in Frontenac.
Post Date: September 3, 2020