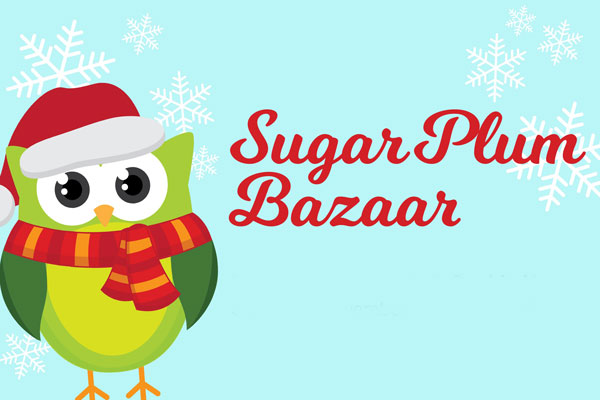 Handcrafted Goods & Cookie Walk
Saturday, November 9, 2019 | 9:00am – 1:00pm
Get some of your Christmas shopping done early! This holiday season come out to the Sugar Plum Bazaar! We'll have over 25 vendors ready to provide you with unique handcrafted gift ideas and the delicious cookie walk!
More info: sugarplumbazaar@parkwayucc.org
Become a Vendor
To become a 2019 vendor, please download and fill out the form below. Please return to Parkway by October 1, 2019.
THE SUGAR PLUM BAZAAR AGREES TO:
Conduct the Parkway Sugar Plum Bazaar on Saturday, November 9 from 9:00a – 1:00p. Parkway will also provide normal janitorial service, heating/air conditioning, and/or ventilation, normal utility and lighting services.
In the event of severe weather conditions or building damages that may occur, in Parkway's sole discretion, the Bazaar may be cancelled. Should the Bazaar be cancelled, all vendor fees will be returned.
Provide ample time for set-up and teardown of booths.
Parkway reserves the right to refuse any vendor for any reason.
The Parkway team retains the right to change the location of the vendor's booth at any time at its sole discretion.
Parkway will supply the WIFI password to those requesting an internet connection. Should you utilize the WIFI, Parkway assumes no liability or responsibility for any problems relating to the internet access.
Parkway will open the building beginning at 7a on the day of the event for vendors to come in for early set-up.
EACH VENDOR AGREES TO:
Vendors will have the booth(s) staffed during the Bazaar hours.
Vendor space will be approximately 9' x 9', unless otherwise agreed upon by both Parkway and the Vendor.
Vendors will not dismantle or breakdown booths until the end of the Bazaar.
Vendors agree to completely remove booth(s) from the Bazaar site by the final move-out time limit, which is two hours after the end of the Bazaar.
Additional booth equipment is available on a first come, first served basis. Day-of requests are subject to availability.
Parkway's equipment has weight limitations. Please be mindful during set-up not to overload the tables.
One vendor per booth. If multiple representatives of the same company wish to share the booth space, this will be permitted.
Decorate the designated booth space with appropriate items and materials of interest that are related to the products or service sold by the vendor.
It is the Vendor's obligation to collect sales tax on any transaction where required by law and timely pay and report the amount to the State of Missouri.
Vendors must not interfere with the neighboring booth's visibility or infringe on their area. Display of wares must be kept within the confines of the contracted exhibit space.  Parkway, in its sole discretion will resolve issues between vendors.
Alcoholic beverages are not allowed. Also, no smoking is allowed.
Understand that Parkway will not allow open flame in the building. Candles with glass protection surrounding the flame are permitted.  Open flame candles (candles that do not have glass protection) will not be allowed.
The vendor is entirely responsible for the exhibit space allotted, the products offered and sold, and shall be liable for any loss or damage to the premises and for any loss or damage to any equipment.
Vendors must protect Parkway's equipment, walls, columns, floors, and the remainder of the facility from damage. Vendors will be held responsible and charged for any damage, or for any clean-up necessitated by paint, grease, oil, abrasives, or excess debris left in the vendor's space.
Vendors wishing to insure their goods must do so at their own expense. Vendors are charged with knowledge of all laws, ordinances and regulations pertaining to health, fire prevention, customs and public safety while participating in the Bazaar.
Insure yourself against any claims resulting from the exhibits. Parkway will not be responsible for any personal injury, damage or loss to exhibits by fire, theft, pilferage, malicious action or accidents.
Upon signing the completed Vendor Application, the vendor assumes all risks and responsibilities for accidents, injuries or damages to person or property and agrees to indemnify and hold harmless Parkway and any person affiliated with Parkway, against any and all claims, liabilities, losses, theft, damage, costs and expenses (including attorney's fees) arising from or in connection with the vendor's participation in the Bazaar or from vendor's activities conducted upon Parkway property.
The ADA requires that exhibits be accessible by persons with disabilities. While Parkway is responsible for ensuring accessibility for the general trade Bazaar areas, the vendor is responsible for controlling its booth.
Vendors must make payment with cash, check, or credit prior to the Bazaar. Make checks payable to Parkway United Church of Christ.  Payment must be submitted by October 1, 2018.  Should payment not be submitted, Parkway has the right to cancel the agreement with the vendor and offer the space to another vendor.
Understand and agree that this contract is firm with a non-refundable payment with exception for cancellation due to extreme weather or building issues.
Vendors who violate the Sugar Plum Bazaar Rules & Regulations may be banned from participating in future Bazaars or requested to leave the Bazaar without refund of any monies.
Parkway reserves the right to cancel this agreement with any vendor any time prior to or during the Bazaar for cause as determined by Parkway in its sole discretion.
Vendors that have handcrafted items receive first priority of space. Any direct sales vendors or vendors with mass merchandise items applying will be placed on a waitlist.  If a vendor should cancel prior to the event, Parkway will open the opportunity to a vendor on the waitlist.